This information was supplied by:




Kris L. Christine

Founder, Co-Trustee

The Rabies Challenge Fund

(May 1, 2008)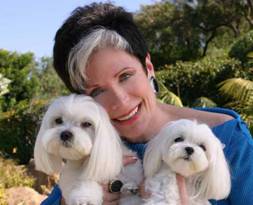 Jiggy, Jan & Chiclet
Announcing a Joint $35,000 Matching Gift to the Rabies Challenge Fund
Jan Rasmusen, author of the national-award winning book, Scared Poopless: The Straight Scoop on Dog Care,, and two anonymous dog lovers announce a combined $35,000 matching gift to The Rabies Challenge Fund. Jan's gift is being made on behalf of her dog, Chiclet, in honor of Chiclet's companion, Jiggy, who developed autoimmune liver disease after a rabies shot.
Jan Rasmusen says, "By helping to fund the Rabies Challenge studies, we have the chance to help better the lives of, not just hundreds of dogs, or even thousands, or even hundreds of thousands of dogs. We can potentially help to improve the health of every pet dog in America. How exciting is that!"
The anonymous donors add: "We are totally dedicated to the Rabies Challenge Fund and its mission and are so pleased to be able to support it with this matching gift of $25,000."
From May 1st to August 31st, for donations of $100 or more, Jan and the anonymous donors will match $1 of every $2 donated up to $35,000, and Jan will send an autographed copy of her book for donations above $500 as well. Also, Chiclet has enlisted the support of canine movie star, Benji, who says "This important study is long overdue. I give the Rabies Challenge study four BIG paws up!"
"Donations from our team of dedicated supporters, like Jan and the anonymous dog lovers, along with steady grass-roots public contributions have launched our second year of fund-raising with a bang!" responds Fund Co-Trustee, Dr. W. Jean Dodds.
Funded by grass-roots donations, the rabies challenge studies began in November 2007 with the goal of extending the required interval for rabies boosters to five, and then seven years. Dr. Ronald Schultz, Chair of the Department of Pathobiology of the University of Wisconsin School of Veterinary Medicine, is conducting the studies according to USDA vaccine-licensing standards. Previous French research on the rabies vaccine demonstrated a minimum of five years duration of immunity by challenge. American serological studies showed a minimum duration of immunity of seven years.
"It is so exciting and important to get support for the Rabies Challenge Fund from as many dog owners as possible. The very generous combined $35,000 matching gift from Jan Rasmusen and the anonymous donors will go a long way to provide the funding required for these critically important rabies vaccine studies," comments Dr. Schultz.
Fund founder, Kris L. Christine, says, "We're thrilled about these generous gifts and Benji's endorsement, which will make a huge difference in helping us meet our second year's budget for the studies!"
Find more information on the matching $35,000 gift to The Rabies Challenge Fund at our website designed by Andrea Brin www.RabiesChallengeFund.org and on Jan Rasmusen's Truth 4 Dogs website at www.Truth4Dogs.org.
_______________________________________________________________________________________
More information and regular updates on The Rabies Challenge Fund and the concurrent 5 and 7 year challenge studies it is financing can be found at the fund's website designed by volunteer Andrea Brin at:
The information contained on this site is in no way intended to replace that of proper veterinary advice, diagnosis or treatment.

It is meant to provide resource, so that we can better understand canine health related issues.